Business Moves
Commercial  Removals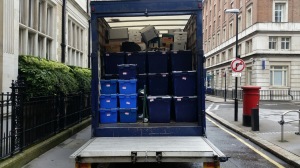 Vertigo Removals London have experience of providing full commercial business moves office removals services within London, United Kingdom and Europe for a wide variety of customers. We provide a highly professional business moves, removals service at a very competitive rates , whilst not compromising on quality, whether you are a one man business or a big size company.
Our Business moves services are designed to minimise the disruption to your business and are completely flexible to suit the structure and requirements of your company. As part of our business moving services, we can offer secure storage services, if your move does not involve a straight A to B timeline.
Vertigo Removals London is a professional moving company you can therefore be assured satisfaction and competence when using as for your Business moves, whatever the size of your office/company, the type of move or the destination. If you need advice in planning your office move, please feel free to contact us.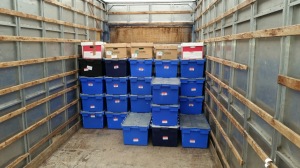 Vertigo Removals will arrange a free site survey where our business move estimator will discuss your requirements. During the site survey the business moves estimator will assess the quantity of crates, computer crates and type of packing materials required ,type of the vehicle and size of the crew. We will arrange the delivery and collection of crates on the dates that suit you. Following the survey we will send a quotation and then confirm the details in writing if you wish to proceed.
Each office removals crew consists of a Foreman, Driver and Porters. Our experienced and professional Foreman ensure everything is going to plan and direct the removal crew. Driver secures the load using tie webbing and protects the furniture using transit blankets. Porters carry the office furniture and load/unload according to the Foreman instructions. Where access is tight our men can dismantle office furniture to easy the moving plan. Any furniture dismantled will be reassembled at the new office location.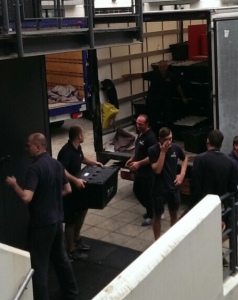 Vertigo Removals will protect the common areas to ensure each office building is not damaged. We will protect the floors, walls and mirrors in lifts and on marble floors if required, all office furniture will be moved on trolleys and skates or manually .
At other end the furniture will be set up to your floor plans. At the end of the move the Foreman will walk through the building with you to ensure everything is in the place.
As a professional removals company we understand the importance of consistency and the need for as little disruption to the daily running of your business as possible; therefore we strive to be flexible in order to ensure minimal downtime for your company and will move your offices after hours and during weekends if required.
Vertigo Removals also offer a flexible pricing structure including both hourly and daily rates on business moves. When you only have a few items to move we will charge by the hour so you only pay for the time taken, if there is slightly more to move we can charge our men out for the day. Our telephone salesman will be able to decide which pricing structure will suit your needs. Small moves can be book by hourly rates.
Packing and Unpacking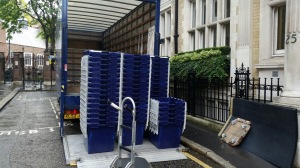 We can supply a crew to pack and label crates, pictures, kitchen contents and breakables if required for  business moves. Following the office move we can supply a removals man to unpack.
Vertigo Removals can supply removal men before or after the move to carry out small moves within the building or to other sites.